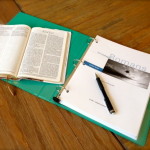 We're gearing up for a new women's Bible study starting September 25th. We'd LOVE to have you along for a journey through the book of Romans:
Wednesday Mornings 9:30-11
@ CenterPoint (View Map)
Childcare Provided*
You'll need to download the workbook before our first meeting. (In the drop-down menu, select "Additional Participants Guide." The cost is $1.) Bring a Bible, something for note taking, and your own mug for coffee. We'll provide the coffee and (hopefully) stimulating conversation! Can't wait to get started digging into scripture together.
_____
*Please RSVP with the age(s) of children needing care.